SMP Sports Masseuar Jim Tipper is currently in Turkey competing in the European Masters Athletics Championships. In true SMP style, whilst he's out there we asked very nicely if he would give us an insight into the athlete's perspective of an international competition. So, without further ado here's part one of his blog from Izmir……
Day 1; Having arrived, after a long full day's travelling, in Izmir early yesterday evening and being driven through some of the, let's say, less illustrious sights of the city, we (myself and 2 British teammates) eventually got to our hotel, sorted the room and managed to find somewhere decent for food not far away before hitting the hay in excitement for tomorrow.
Day 2; Late rising after fighting with the aircon unit throughout the night we embarked on finding our way to the stadium in order to register. Metro eventually found and conquered and 30mins later at the registration zone collecting race numbers and signing in for the 100m heats tomorrow evening. A brief saunter around the impressive stadium and we found the under-stand warm up area where we embarked on a nice easy leg loosening session after the day of travelling yesterday.
So a nice leisurely warm up and a few runs in spikes to get the legs turning over at some speed in the heat was just what the doctor ordered.
Left the stadium feeling good and looking forward to racing in it tomorrow for the 100m's. You can see for yourself the size of it (holds 57,000 at capacity) although I can't imagine there being many more than 100 people in it at any one time!!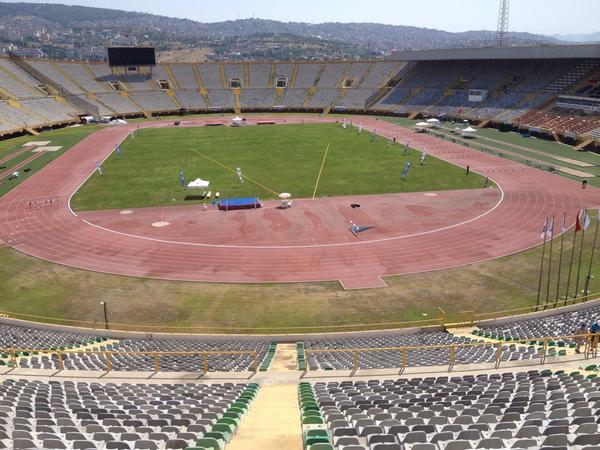 Signing off now until after the heats tomorrow when I'll report back with progress!